Schedule:
Nov'19: Open for applications
Nov'19 – Feb'20: Register your interest
Feb'20: Guidance Workshop
Mar'20: Application deadline
Shortlist announced
Apr'20: Awards ceremony

The Irish Hungarian Business Association (IHBA) Bright Idea Award for the best business idea by a small enterprise in Ireland with connections to Hungary will soon to be launched.
The Award of €1000 + a yearly IHBA membership will be given to the individual or business entity (sole trader, partnership or company) on the island of Ireland judged to be the best, as well as showing significant commercial promise.
The IHBA BRIGHT IDEA Award is open to all members of the IHBA, Irish or Hungarian. (To join the IHBA see www.ihba.ie). Hungarian entrants need to have a recognized presence in Ireland, and Irish entrants should already have a profile relating to Hungary. In all cases, the number of employees has to be less than 20.
All competitors are winners through participation and will benefit from meeting and networking with fellow entrepreneurs.
A short list of the best applicants will make a presentation during the Business Networking event on 2nd of April 2020 and the Award will be presented to the winner at the same event.
Requirements:
Project summary in pdf format document is 2-3 pages
Document in English language
Company registration number where applicable
Submission of pdf document not later than 21st February 2020 to ihba@ihba.ie
If you have any questions or queries, please do not hesitate to email us or message us through our Facebook page.

Guidelines:
A real sense of passion & enthusiasm for the business jumping off the page
A clear vision for the business
Keep in mind the 7 P's of Marketing (Product, Price, Promotion, Place, Packaging, Positioning and People)
Make sure you are clear on the concept and that an external person will understand it.
Demonstrate your business plan
Make sure you have a clear revenue model. Where do you make the money? Where do your sales come from? What is your pipeline like? We would like to see a draft sales projection for your business.
Think visually. Make your plan stand out. Consider the use of more pictures and less use of text.
Score sheet of the maximum 100 points:
The originality of BRIGHT IDEA 30 points
Commercial potential 20 points
Business proposal 20 points
Clarity of Submission 15 points
Presentation (5 Finalists) 15 points
Registration for competition: Please visit our website: www.ihba.ie
The IHBA reserves the right to amend or alter the rules of the competition as it sees fit. The decision of the judging panel is final.
---
Bright Idea Award 2019
We are thrilled to announce now that the winner of the IHBA-Pannonia Bio Bright Idea Award 2019 and the winner of the €1000 prize is
🏆Andaluzia Rampelt / Next to the Library Café Monasterevin Monasterevin🏆
Well done to Szilvi Kovács / Trip 2 Go for the excellent presentation and congratulation on her achievements.
Huge thanks to Pannonia Bio for sponsoring the event.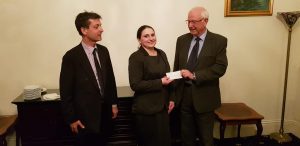 ---
Bright Idea Award 2018
What happened last year?
We have received a record number of interesting projects this year. Our Judges had a hard time to shortlist the best 5 who will present live on the 5th of April on our Award Ceremony!
The 5 finalists are:
Impacter
Josh Consulting
Green Leaf Services
Functional Brain
Csilla Bartko
Congratulations to all participants!