Welcome note from the IHBA Chairman
Welcome to the Irish Hungarian Business Association website.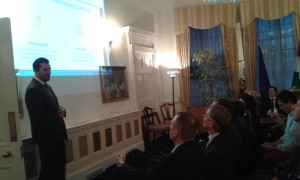 Over the past 20 years, the nations of Ireland and Hungary have been forging ever closer
trade, investment, tourism and cultural links. This has occurred against the backdrop of a more integrated European Union.The Irish Hungarian Business Association continues to play an important role in helping to build relationships at a business and personal level to strengthen the economic ties between our two countries. We are a voluntary organisation, strongly supported by our association's President, His Excellency Ambassador István Pálffy.
Our website is designed to be a focal point and information source for our members and visitors alike. Our members are important to us and we continue to seek ways in which we can enhance the benefits of membership. We very much welcome new members and ideas. I and the other Council Members, look forward to interacting with you as our association continues to grow.
We wish you every success with your business activities.
Botond Tarcsay
IHBA Chairman
Irish Hungarian Business Association Mission Statement
Promote two way investment, trade, commerce and tourism between Hungary and the Republic of Ireland through personal connections.
Enable business people and companies to share their experience to mutual advantage by demolishing Cultural and Language barriers.
Reward and Educate businesses to increase success in both countries.
Council Members
Ambassador István Pálffy – President
Péter Horváth – First Counsellor
Botond Tarcsay – Chairman
Gabriella Bakonyi
Sean Eustace – Vice Chairman
John McMillan – Treasurer
Patrick Lawlor
Shane Ó hEidhin
Dorina Vass
Bertalan Bari
Agnes Chvojka
IHBA Formation
The formation and economic emphasis of the IHBA was promoted by George Eaton, Hungary's Irish Honorary Consul and its establishment coincided with the appointment of Dr Géza Kollar Hungarys first Trade Counsellor to Ireland. The Association enjoyed support from the earliest days from the Irish Trade Board and this continues to the present through its successor Enterprise Ireland. There has been close connection with the Hungarian Embassy in Ireland since it opened in 1991 with the Ambassador as Honorary President of the IHBA.
Hungarian EU Membership
From the earliest days the IHBA actively promoted Hungary's admission to full membership of the EU. In the mid 1990's Mary Kelly, a post graduate student of Trinity College, was engaged to make a study on "The Implications for Ireland of Hungary's Integration into Europe" This study effectively became a significant work of reference in the debate on EU enlargement.
Hungary became a member of the European Union on the 1st May 2004. The membership has had significant positive effects on the Hungarian economy, and provides important competitive advantages for companies in the country.
Annual Awards
Annually the IHBA presents a prestigious Award to the company or individual "who is judged to have made significant contribution to Irish Hungarian economic relations". Recipients have included Avonmore, one of the early entrants into the Hungarian dairy industry, Navan Resources, Galway Chamber of Commerce, Grafton Recruitment, ICC Bank, retired Irish Ambassador Jim Flavin and in 2004, CP3, the Irish software company. Even the Irish pub Becketts was recognised in 1993 when Irish expatriates made it their unofficial Irish Chamber of Commerce.